Pressure Cleaning Service
Quality Pressure Washing in Frederick, Hagerstown, and Beyond!
Encore Quality Services LLC offers superior pressure cleaning services, a sure way to enhance your entrance or other areas within your establishment. Studies indicate that individuals claim their opinion of a community, office, organization, or a shopping center, at the moment in which they enter the property. When the entrances of an establishment or perhaps a garden center are soiled with filth, dirt, grease or gum, it may cause the loss of a client or a customer. This filth could be carried into the establishment as well, at worst case scenario – attached to a client or a customers shoes as they walk through the establishment. Pressure cleaning on a regular basis is a good way to assist with the longevity of the wax applications upon the floors and the carpets within the interior of the establishment as well.
Our team delivers superior pressure cleaning services with state of the art equipment. Our high-tech equipment is justified upon start as the surfaces being cleaned begins to transform back into the beautiful surface it once was when it was applied. Our mobile wash skids deliver hot, cold and steamed water with temperatures up to 250° F with a sophisticated 12V diesel burner system. The ultimate balance of power and efficiency of our mobile skids combined with the accurate penetration of our surface cleaner machine is sure to bring the cleanliness of your entrance a scale above the rest.
Our highly trained pressure washing team arrives on site at a time arranged at your convenience. We realize the importance of every client or customer which enters into an establishment. Pressure washing of an entrance should not be an inconvenience. Our team is available around the clock to remedy any scheduling issues, allowing for convenience and optimal safety for clients, customers and employees.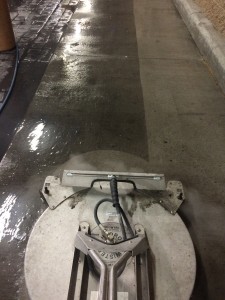 Our pressure washing team is committed to excellence. In areas where shelving, merchandise or other necessary items must be moved for a proper and thorough cleaning, our team carefully moves the items and places them back immediately upon completion for proper display. All accumulative debris from the pressure washing operation is collected and properly disposed of offsite.
"In all the years that I have worked at this establishment, I have never seen this Garden Center look so good. This is unbelievable." – Manager of a local store, Frederick, MD

 Learn more About our Other Services in the Frederick and Hagerstown, MD Area: